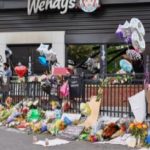 A specially appointed prosecutor announced that no charges will be pursued against the two white Atlanta police officers who clashed with Rayshard Brooks during a 2020 encounter, ending with the 27-year-old black man's fatal shooting. Pete Skandalakis, executive director of the Prosecuting Attorneys' Council of Georgia, believes that Officer Garrett Rolfe – who shot and killed Brooks in June 2020 — acted appropriately. Skandalakis also said the second officer involved in the encounter, Officer Devin Brosnan, will not be charged.
Police responded on June 12, 2020, to complaints of a man sleeping in a car in the drive-thru lane of a Wendy's restaurant. Police body camera video shows the two officers having a calm conversation with Brooks for nearly 40 minutes before telling Brooks he'd had too much to drink to be driving and attempted to arrest him.  Brooks resisted arrest, and in a struggle caught on dash camera video, Brooks is seen grabbing a Taser from one of the officers and fleeing, while firing at Rolfe. Rolfe fired his gun in return, with an autopsy finding that Brooks was shot twice in the back.
Skandalakis and former Gwinnett County District Attorney Danny Porter, who was co-counsel in the case, spent about an hour during the news conference on Tuesday walking through the details of the encounter between Brooks and the two officers. Porter showed still images taken from videos to break down what happened once things turned violent.
Rolfe was fired a day after the shooting, but his dismissal was overturned in May 2021 by the Atlanta Civil Service Board. Five days after Brooks was killed, then-Fulton County District Attorney Paul Howard announced warrants had been taken out against Rolfe and Brosnan, with charges against Rolfe including felony murder, aggravated assault and violation of his oath. Brosnan was charged with aggravated assault and violating his oath. Skandalakis said Tuesday that he would file paperwork to dismiss those warrants.
Editorial credit: Christopher V Jones / Shutterstock.com