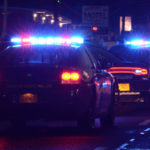 Police confirmed on Wednesday that the suspect accused of torturing a woman he held captive in southern Oregon last week died from a self-inflicted gunshot wound after an hours-long standoff.  Police also said that the suspect, Benjamin Foster, is accused of killing two other people in the days before his death.  Authorities discovered the site of the double homicide located in the same area where Foster had eluded being captured. The two victims appear to have died as a result of blunt force trauma, police said. There are no other suspects in their deaths other than Foster.
On Tuesday, Police had received a tip that Foster was believed to have taken a cab from around Wolf Creek to Grants Pass at about 7 a.m., a roughly 20-mile ride. Law enforcement located Foster in Grants Pass, the same place where he was accused of torturing a woman. A standoff at the home where the woman was found ensued, with Foster resistant to law enforcement's efforts to communicate with him. The standoff ended when Foster, who had "burrowed deep underneath the home," shot himself in the head, police said. He was transported to a hospital, where he was pronounced dead.
Foster had been the subject of an intensive manhunt in southwestern Oregon after a woman was found tortured, unconscious, and near death in a house in Grants Pass on Jan. 24.  As of Wednesday, she remains hospitalized in critical condition.
Editorial credit: TFoxFoto / Shutterstock.com